l e f t . o f . c e n t e r
| Home || Me || KiSS || Templates || Dolls || Rant || FAQ || Links |
Cartoon dolls are all the rage these days. The vast majority of cartoon dolls use a style created by an artist known as innocents. These dolls were originally designed to be avatars for the Palace graphical chat system, and are still in use today.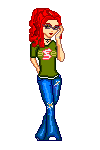 me as an "innocents" type cartoon doll
Besides the usual type of cartoon dolls, I've also created several styles of my own. I'm also offering a number of blank doll bases for people to use.
Feel free to borrow these "dollz" for your webpage or desktop--just right-click and save. Don't direct-link; Tripod won't let you. If you should post them on another webpage, please give me credit for making the dolls. A great way to do that would be to post the banner below somewhere on your site. Just remember to link it back to the main page of this section (http://embyquinn.tripod.com/embycartoondolls.html). Thanks!

Web Dolls 1 | Web Dolls 2
Divas 1
Silents 1
Innocents 1
Doll Bases 1

back to left of center