ACT II
EUPHORIA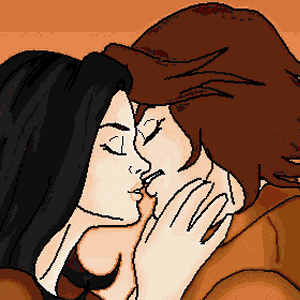 (Or: Oh Yippee, you're mine.)
YOU FEEL FUNNY INSIDE. YOU FEEL FUNNY OUTSIDE. YOU FEEL YOU COULD DO ANYTHING AND NO ONE WOULD DARE LAUGH AT YOU.
THIS LOVE, YOU WILL TREASURE. YOU WILL NOT PUT IT IN THE BASEMENT NEXT TO YOUR ROWING MACHINE, TREADMILL AND THERMAL BODY SWEAT WRAP. AND YOU WILL NOT TAKE THIS LOVE FOR GRANTED, BECAUSE THAT IS THE BIGGEST SIN OF ALL. AND YOU SAY:
I feel so good, I feel so strong, I feel actually attractive and I could learn to live with that feeling. Oh let us sing and dance and eat brown mushy foods low in fat! Oh joy! Oh rapture!
Oh but what if I'm no good at this? Oh I am no good at this. I am a dingy speck on the wall of humanity and look at how badly painted that wall is! I am becoming very, very afraid. That must be because I'm passing into the Third Act, so aptly called:
Act One
|
Act Three