ACT I
LUST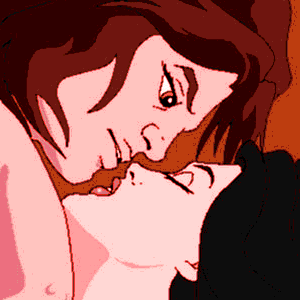 (I think I love you. Who are you anyway?)
HERE IT IS, THE BIG "WOW," THE BIG "GEE," THE BIG "YESYESYES" YOU'VE BEEN WAITING FOR. THIS IS WHERE YOU FIND SOMETHING OR SOMEONE AND BELIEVE THEY ARE BETTER, GREATER, CUTER, WISER, MORE WONDERFUL THAN ANYTHING YOU HAVE EVER KNOWN.
LUST ISN'T A SIN, IT'S A NECESSITY, FOR WITH LUST AS OUR GUIDE WE IMAGINE OUR BODIES MOVING THE WAY OUR BODIES WERE MEANT TO MOVE: WE CAN DO MARATHONS WITH OUR FEET, LIFT POUNDS WITH OUR ARMS, HAVE STARS IN OUR EYES AND DO A NIFTY TANGO. AND YOU THINK:
I have no need of food, I have no need of sleep, I have no needs other than occasionally chewing a breath mint. You are the best thing that's ever happened to me, probably because you haven't happened to me yet. Now I can pass into the next Act, so poetically called...